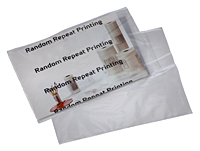 Save yourself some time and money by choosing Poly Bag Central's Postal-Approved Mailing Bags. Mailing correspondence without using Postal Approved Mailers can result in delays in delivery and/or damaged packages being received by the other party. Poly Bag Central offers Clear Poly Mailers and Lip & Tape Bags:
Clear Postal Approved Mailing Bags are open-ended mailers that comply with USPS-T-3204. In addition, our clear postal-approved mailers are approved for use with automation flat size mail pieces. Choose from five sizes including: 6 x 9 inches, 9 x 12 inches, 10 x 13 inches, and 12 x 15.5 inches. Each size comes in a package of 1,000 bags.
Lip & Tape Mailing Bags provide extra security with their permanent seal. Designed of 2 mil polyethylene, our lip & tape mailing bags come in a popular 9 x 12 inch size with 1,000 bags in each package. These postal approved mailing bags are quick and easy to use. You simply remove the backing from the tape before folding it over the lip to form a permanent seal for your business items.