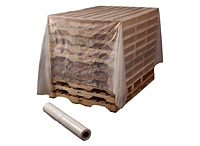 Keep equipment, tools and machinery as free from dirt, debris, moisture and prying eyes as possible.
Sites bring up special issues when it comes to being neat, clean and dry. To meet your particular needs, our construction and agricultural film is available in three different shades – black, clear and transparent white. Ideal as a vapor barrier or drop cloth, our C&A film is provided in continuous rolls of durable low density polyethylene.
For sizes of C&A film not listed, call us for a custom quote. We produce film up to 20' wide (slit gusseted) in gauges of 2 – 6 mil.