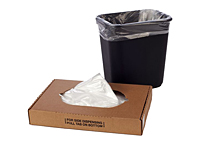 Clear Trash Bags & Can Liners are the perfect choice for recycling and waste disposal. Whether for an office environment, healthcare, or manufacturing facility, with over 120 stock sizes you're sure to find just the right size.
Poly Bag Central offers Clear Liners in heavy-weight low density, linear low density and high density polyethylene:
Linear Low Density (LLDPE) clear gusseted liners are manufactured using the best grade of LLDPE on the market today – Octene. These bags offer exceptional strength at an economic price and come in a convenient corrugated dispenser box. Stock sizes range from 4 gallons up to 60 gallons. Liners over 31 inches long have a star-sealed bottom.
Heavyweight Low Density (LDPE) clear trash bags & can liners provide the strength and durability that is suitable for all your biggest jobs. We offer thicknesses of 1.5 mil up to 6 mil and stock sizes from 7-10 gallons up to 60 gallons.
High Density (HDPE) can liners provide superior strength for non-sharp waste. We offer these stock bags in gauges from 6 to 17 mic and in capacities from 7-10 gallon to 60 gallons. High density liners come in a convenient dispenser box.