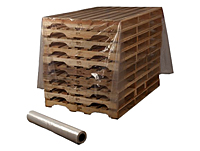 Clear Construction and Agricultural (C&A) Film provides the ideal vapor barrier or drop cloth to protect your tools, equipment and property from dirt, debris and the negative effects of the elements.
PolyBag Central's Clear C&A Film is manufactured of a low and linear low density polyethylene (LDPE) blend. Available on a continuous roll of either 100 or 200 feet, our C&A Film is available in three different thicknesses (gauges) so you can choose the protection you need – 2 mil, 4 mil or 6 mil:
2 Mil Clear C & A film is available in widths of 50", 100", 12' and 16' with 200' length continuous rolls.
4 Mil Clear C & A film is available in eight widths from 3' wide to 20' wide and length of 100 feet per continuous roll.
6 Mil Clear C & A film is your choice when extra thickness is needed. We offer 7 widths ranging from 3' to 20' in lengths of 100' per continuous roll.