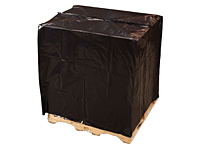 Poly Bag Central Black Construction and Agricultural (C&A) film is versatile, durable and effective. Black C&A film provides protection from prying eyes, dirt and debris, and the damaging effects of the elements. This versatile product also works well as a drop cloth to protect your work surface. We keep this extremely popular low density polyethylene (LDPE) film in stock and ready to ship so you never have to wait.
To meet your needs, we offer Black Construction and Agricultural Film in two gauges:
4 Mil black construction and agricultural film is available in widths from 3' to 12'. You'll find the 100 foot length film to be generous and easy to handle.
6 Mil black C&A film is available in dimensions from 10'W x 100'L to 20'W x 100'L – with other convenient sizes in between – you'll come to rely on the protection properties and security features that are available in our versatile film.