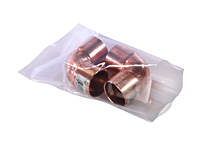 Poly Bag Central's Clear Lay Flat Poly Bags are manufactured of 100% virgin low and linear low density polyethylene blend (LDPE) and meet FDA/USDA specifications for direct food contact packaging. These high quality bags are the ideal method of storing and displaying a range of items from nuts and bolts to doughnuts and cut vegetables. With over 900 sizes in stock and ready to ship, you're sure to find just the right size. Layflat Poly Bags can be heat-sealed, tied, stapled or taped shut.
Choose From Cartons or Rolls
Layflat poly bags packed in cartons are offered in your choice of gauges (thickness) from 1 mil and continuing up to 6 mil. Sizes range from 3"x3" up to 56"x60". You will find over 600 sizes of American-made case-packed layflat poly bags. Some smaller sizes are imported
Thickness Options
Layflat poly bags on rolls offer easy dispensing with perforations between the bags. Increase hand loading production time using Poly Bag Central's clear bags on rolls. All of our bags on rolls are American-made and neatly wound on 3" cores with a 1" plastic plug. We offer a range of thicknesses (gauges) and sizes. Dispensers for Bags on Rolls are available in four convenient sizes.