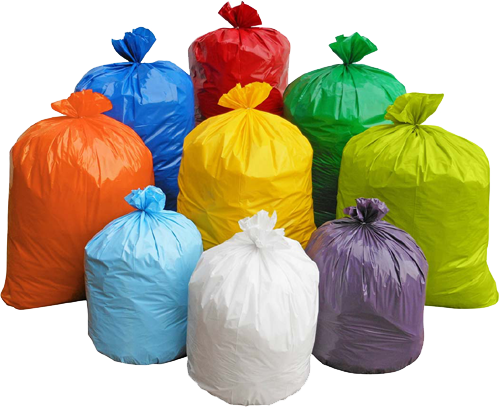 Colorful coreless roll trash bags and can liners with twist ties provide an unprecedented amount of convenience and customization for your business or residential use. Whether you are looking for trash bags and can liners that make it easy to sort materials or you need a color coded system, Poly Bag Central offers innovative solutions for this common issue. Our colorful can liners are made in the U.S.A. and are in stock and ready to ship – usually on the same day!
Available for purchase in your choice of one individual color or a box of assorted, our coreless roll trash can liners are available in these four popular sizes:
Poly Bag Central colored trash bags are packaged on convenient hand-held size coreless perforated rolls for easy dispensing. Though the number of bags that comes on a roll varies depending on the size of the bag, each carton contains ten rolls. Each roll is packaged in a clear poly sleeve for keeping the bags clean and dry until ready for use. Twist ties are included. These bags are made of high quality, extra heavyweight linear low density polyethylene blend. Depending on the bag size you choose, a flat bottom or star seal bottom is available.
Whether you purchase a carton of assorted colors – or you order an individual color — these heavyweight bags from Poly Bag Central are ideal for sorting items such as recylables, production material, paper, waste and much more. These bags offer superior reliability, visualization and durability for use within medical offices, healthcare facilities, corporate offices, retail offices, manufacturing facilities, industrial plants, restaurants and numerous other commercial or residential applications.